Pigeon Miracle
"Pigeon getting Moksha at Sai Babas Feet"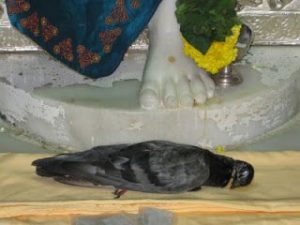 Since then the Boomi Pooja was performed Baba has started blessings and playing of miracles on life of his beloved devotees to satisfy their wishes in their materialistic life as well as there rapid growth in their spiritual life. The blessings and miracles of Sai Maharaj has even started its divine interference even on a life of a Pigeon which passed away at the holy feet of our Sai Maharaj in the temple's Moolasthan on 25th March 2005.
A Pigeon which was flying and roaming inside the temple from 21st of March 2005, before it passed away It was continuously found inside the temple, for the whole day & night, for continuous four days without even taking food and drop of a water, the day before the doe was to pass away the pigeon began to sit on a chandelier light fixed above Baba, it did not move away from there, even the temple's main door was to be closed on that night, even the temple's staffs were trying to push it away, the next day morning the pigeon gave up his life in front of Babas holy feet, in the temple main shrine.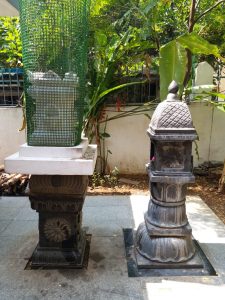 The devotees who got the opportunity to see this wonderful miracle of Baba, strongly believe that the pigeon was performing strong penance in the temple for continuous four days and Baba had liberated it and offered Sathgati to the pigeon's noble soul.
As a reminiscence of this miraculous event that took place in Kelambakkam Baba Temple and to secure Baba's complete blessings for devotees who seek meritorious end of life, a tomb was built for the Pigeon inside the temple near Dwarakamayee, and regular worship is offered there every day.
As a reminiscence of Pigeon attaining Moksha at the holy feet of Sai Baba, The Pigeon's body laid to rest behind Dwarkamayee and a Sthubi ( holy pillar ) is erected with Tulsi madam on top. Devotees offers their regular worship here with a belief that their final deliverance is ensured by Sri Sai Maharaaj